IT & Telecoms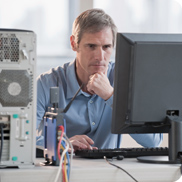 Hays Information Technology & Telecoms specialises in finding you the most suitable roles to complement your interpersonal and technical skills.
Whatever your career aspirations, we have specialists dedicated by skills/technologies:
• Development: C / C++, c# / .net, Java / J2EE, PHP
• IT Consulting: recruitment of MOA, ERP, BI profiles
• IT infrastructure: support, operation and systems, networks
• Networks and Telecommunications: fixed, mobile, internet, TV and satellite
We recruit for DSI user companies, publishers, software, web agencies, system integrators and public sector organisations as well as operators, equipment manufacturers and telecom system integrators.
ERP & Banking Systems
For the latest ERP & Banking Systems jobs in Luxembourg, search our site to find the role that's right for you.
Development
Take a look at all our Development jobs in Luxembourg. Our specialists are only a call way to discuss your career aspirations.
Programmez votre carrière
Programme your career
Get in touch with one of our IT Contracting experts now.