HOW TO MANAGE A HYBRID TEAM?
HOW TO MANAGE A HYBRID TEAM ?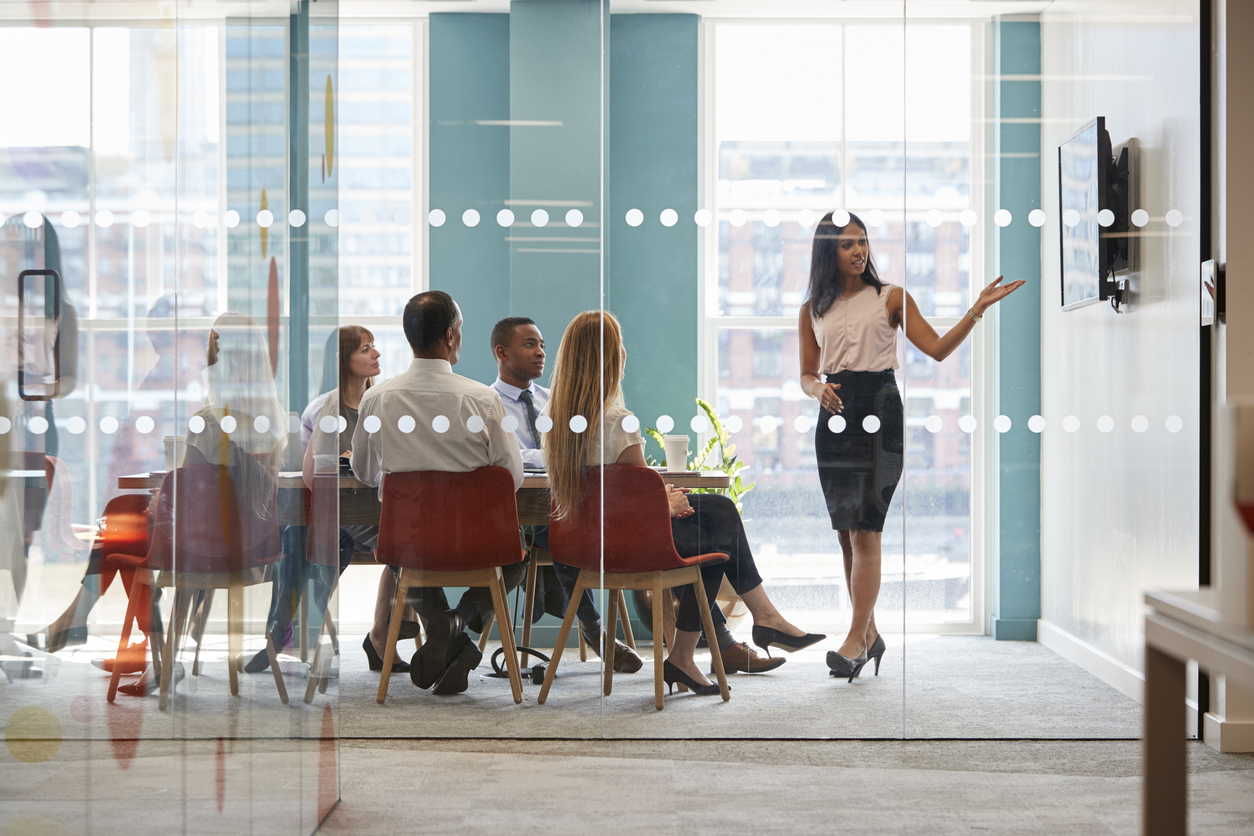 Offices around the world have reopened after the pandemic forced many of us to work from home for long periods. The shift to a hybrid model, where employees work both at home and in the office, seems to be the future trend for many of us.

Indeed, during the pandemic, employers saw that employees remained engaged and productive, mostly adapting very quickly to their new work arrangements.

The question is: how will these new ways of working affect teams and, above all, how can managers support their teams?

What is a hybrid team?
Working from home
has become an integral part of our working habits, with working weeks that are a mix of teleworking and office work.

These teams in which some employees work in the Group's offices while others telework, either at home or in a coworking space, are what we call "hybrid" teams.

Thus, the organisation can vary from day to day, with part of the team coming to the office on certain days and others staying at home, either 100% or on an ad hoc basis. This new way of working is a challenge for most managers, so it is important to think about strategies for successfully managing a hybrid team.
11 tips for leading a hybrid team

To effectively lead a hybrid team, it is necessary to have an inclusive and equitable approach, regardless of the workplace. Here are our tips:

1. Define objectives and responsibilities early on

Establish everyone's goals and responsibilities early on and explain them clearly to the whole team so that everyone understands each other's tasks and can work together productively. For example, you can hold daily or weekly meetings with the whole team to regularly discuss progress on key projects and to keep everyone in touch and motivated.

2. Define clear working hours for everyone

Define a clear schedule for each team member so that employees can quickly know when and where others are working, including those who are not in the same location. To facilitate teamwork, consider sharing each other's calendars (e.g. on Outlook).

3. Avoid the "them" and "us" culture

Some negative comments or attitudes towards the "other group" may appear in hybrid teams. For example, those working in the office might think that those working at home have a lower workload. On the other hand, the teleworkers might criticise the other group for shutting them out or not sharing enough information. A culture of respect and support should be encouraged and all employees, whether in the office or remotely, should be encouraged to develop their working relationships.

4. Maintain fairness by taking into account the benefits and difficulties of each situation

Employees may imagine that it is easier to maintain a good work/life balance by working from home than from the office. One idea is therefore to encourage or facilitate the same level of balance for team members working in the office, for example by giving them the opportunity to adjust their hours to pick up their children from school or to run an errand during their working hours.

5. Make time for each other

The attention and support given to each employee should not depend on where they work or their role. Just because an employee works remotely does not mean that he or she should receive less attention or support than colleagues in the office.

6. Maintain effective communication

Teleworkers may feel the lack of face-to-face interaction. Therefore, think of strategies to make them feel included in the team, such as organising video conference meetings. It is better to use the telephone or video conference when communicating with teleworkers rather than email or instant messaging, which leave little room for informality. People working remotely will feel more part of the team if they hear or see their colleagues.

7. Think about new ways of evaluating performance

With a hybrid team, the methods of evaluating each other's performance must be adapted to be fair. For example, regardless of where employees work, focus on the quality of work produced rather than the amount of time spent in the office or behind the screen. Also make sure that everyone has the same opportunities for career development.

8. Recruit wisely

If you are recruiting for a position that involves teleworking, make sure that the candidate has the right skills to work remotely. Adaptability, punctuality, responsiveness and ideally first experience of teleworking are all soft skills that are valued for teleworking.

9. Create opportunities to bring the team together physically
Organising events will help to
strengthen the bonds between the members of the hybrid team
and allow them to get together, sometimes even to meet for the first time. Where possible, arrange for the whole team to come to the office for half a day to have breakfast together, for example. It will be good for the team to see each other again.

10. Inform teleworkers about company and team decisions

Those who work remotely may not be aware of decisions taken by management or by their colleagues who are in the office. They should therefore be regularly informed and their manager should be as transparent as possible. This will give them a more comprehensive understandig of the organisation of the Group and their team and make them feel part of their company.

11. Rewards and benefits for all

Rewards and benefits are highly valued by employees and are excellent for boosting motivation and commitment. If the rewards on offer are inaccessible to teleworkers (e.g. a yoga class in the office or a discounted membership of a gym near the office), consider offering them alternatives that are equivalent to those of their office colleagues. So when you offer lunch to your team, why not deliver a meal to the teleworkers' homes as well.